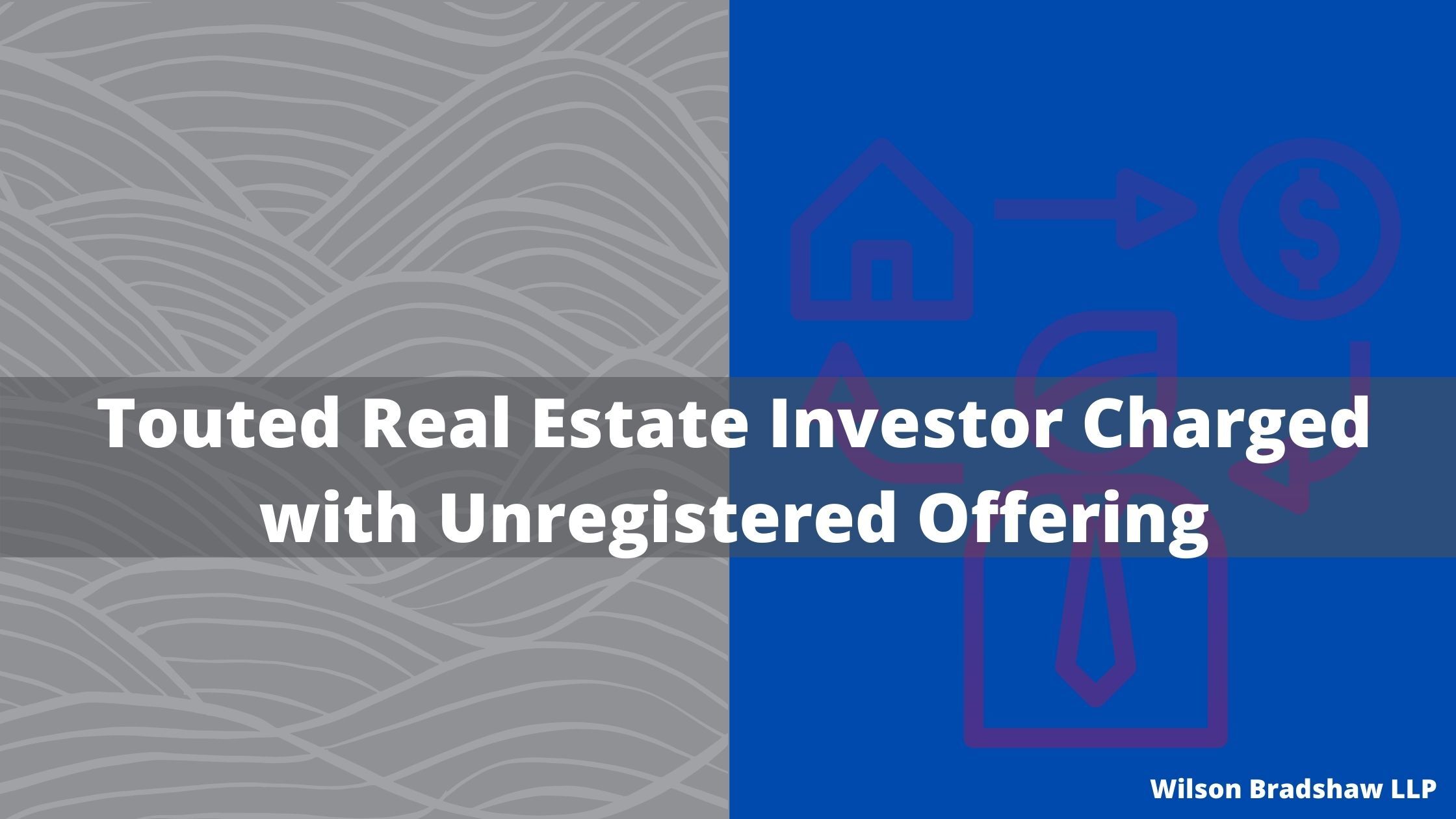 The SEC Charged a Touted Real Estate Investor with Orchestrating Unregistered Offering with a Fraudulent Nature
Unregistered offering by touted real estate investor. On June 29, 2021, the Securities and Exchange Committee (the "SEC") charged[1] Matthew J. Skinner for issuing unregistered securities in four fraudulent schemes through Empire West Equity Inc. and four other entities he controlled. Skinner is a California resident with a criminal record of assault with a deadly weapon, and he had never held a securities license. However, he successfully, but falsely, pictured himself as an experienced real estate dealmaker and raised approximately $9 million from over a hundred investors between 2015 and 2020. Consequently, the SEC seeks permanent injunctions, disgorgement of the ill-gotten with prejudgment interest, and civil penalties against Skinner.
The SEC claimed in the complaint[2] that from 2015 to 2020, Skinner raised money for four real estate projects through his four entities connected by Empire West. The four projects were the Longacre Offering, Bayside Offering, Freedom Fund Offering, and Simple Growth Offering, none of which were registered with the SEC. While Skinner purportedly relied on SEC's exemption of registration under Rule 506, a significant portion of investors were not accredited investors. Instead, Skinner solicited prospective investors directly in person and indirectly through representatives he hired, with whom he had no pre-existing connection and never affirmed if they were qualified as accredited investors. Furthermore, Skinner advertised on the websites and social media accounts promoting his offering as simply, "anyone can invest." His soliciting action collectively renders the nature of his offerings public instead of private and is subject to the SEC's regulations.
In his first orchestration, Skinner raised money for Landcare Estate, a real estate project purportedly developing residential lots on land purchased in Granada Hills, California. To promote it, Skinner misrepresented the offering as having limited risk with a return rate of 28%. After raising over $700,000 in the first round offering in 2015, Skinner raised another $1.65 million in 2016 (the second round offering). Skinner also released a detailed budget plan for the approximately $2.4 million raised in the two rounds, including the cost of land purchase, design development, and other facility developments. The budget plan also claimed that the fund manager (Skinner and his entities) would only charge a "one-time Asset Management Fee of $120,000".
However, instead of developing the residential lots as he promised, Skinner transferred $950,000 to his own company Empire West's account, and another $220,000 to Freedom Fund Offering, a separate offering unrelated to Longacre. Indeed, Freedom Fund Offering is another of Skinner's unregistered offering fraud. Because of the lack of funding, the Longacre project remained incomplete. When a purchaser paid $230,000 for two out of the four residential lots (the price is far below what Skinner promised to the investors because the lots were underdeveloped), Skinner again misallocated $175,000 of it on his personal expenses.
The second scheme involved the development of two multi-million dollars homes on the harbor in Newport Beach. Skinner established Bayside Equity and entered into an agreement with Bayside 2209, one of the developers for the Bayside housing. Bayside 2209 agreed to pay a 7.5% annual interest plus 20% of the profit that Bayside 2209 received to Skinner's if Bayside Equity could raise $2.3 million for the project (Bayside Offering). Since Bayside 2209 owned 45% of the net profit of the project, Bayside Equity (or the investors of Bayside Offering) should receive 9% of the project's net profit (0.2*0.45).
Nevertheless, the Bayside Offering PPM stated that the investors would receive 20% of the net profits from the Bayside project as a whole. This statement was materially misleading, causing the investors to have an inaccurate expectation of the return. For example, Skinner boasted, "we anticipate producing approximately 90% return within 18 months for the partners". The statement was incorrect because its calculation was based on the false assumption that investors were entitled to 20% of the net profit. Furthermore, the PPM also stated that Skinner would only receive a one-time compensation of $50,000 out of the $2.3 million raised for the project. However, after the project was fully funded on April 15, 2016, Skinner continued to receive investments without noticing the investors. Between July 2015 and November 2017, Skinner received over $3.1 million from 51 investors, of which he misappropriated approximately $800,000.
Skinner continued on his third scheme, whereby he raised money through Freedom Fund Offering to purportedly "purchase, renovate, and then refinance or sell undervalued apartment buildings" in Arizona. He actively solicited prospective investors with the exaggerated return rate of his offering. According to Skinner, investors would receive a preferred annual return of 7% plus 60% of the net profit above this 7% threshold. In a promotional conference, Skinner calculated the annual return to be around 15% to 18%. Skinner also submitted a PPM, claiming that $2.8 million out of the $3 million investment will be used to purchase and develop the housing, and he would only charge a one-time fee of $200,000.
Skinner had a better plan. Out of the $2.6 million received, he wired over $950,000 to his Empire West account. To cover up his scheme, he also used new investors' money to make Ponzi-like payments to earlier investors. Furthermore, unlike the impression of having multiple real estate Skinner created, the Free Fund Project only owns one apartment building, Tide. When the Freedom Fund received $3.2 million for selling Tide in 2019, Skinner spent $840,000 to repay part of his $1 million loan of funding Tide's down payment, with over $240,000 in interest that he never disclosed to the investors. He also transferred another $170,000 to his Empire West account and therefore could not repay $2.6 million with the touted interest to the investors.
Skinner lied to the earliest 16 Freedom Fund investors to conceal his conduct, claiming that he lost their money in another investment Freedom Fund made. The statement was false, Freedom Fund made no other investments, and Skinner still owes $800,000 to the 16 investors today. Skinner also decided not to repay the $220,000 he sent from the Long acre project, betraying the interests of its investors again. Furthermore, he rolled over more than $400,000 of Freedom Fund investments to Simple Growth, his last scheme where he promised (without a ground) a 12% annual return. When some investors raised concern about the liquidity and explicitly demanded cash out their investment, Skinner went his own way and rolled their money over without investors' consent.
Skinner raised approximately $1.3 million and the $400,000 rolled over from the Freedom Fund for his last project, Simple Growth. Similar to his conduct in other schemes, the Simple Growth Offering was based on multiple false statements. Skinner depicted the program to be risk-free, claiming that he would use the money to provide short-term loans to real estate companies. He also emphasized the project to be backed by hundreds of his apartment units and could only fail "if the whole company fails –which would require hundreds and hundreds of my tenants to decide to stop paying their rent altogether." In addition, Skinner based his promise of a 12% annual return on the claim that his project's lowest annual return rate in the last ten years is 18%. However, none of the claims above was accurate. Skinner did not own hundreds of apartments nor had a stable cash flow from tenants' rent. In the past ten years, his lowest return rate was also not 18% since he still owed $800,000 to the 16 investors of Freedom Fund. Finally, he did not use the money to provide short-term loans but directed $370,000 to his personal account, $323,000 to pay off his credit card, and $265,000 in Ponzi-like payments to Simple Growth and Freedom Fund investors. By the end of March 2020, only $200 remained on Simple Growth's account.
Michele Wein Layne of the SEC says, "Those attempting to raise money in private offerings must still fully comply with the federal securities laws… skinner allegedly defrauded investors with false promises while misappropriating their money."
Skinner exploited the investor's trust when he purposely solicited investors in an unregistered offering with false information and sacrificed investors' interest to his self-interest. He abused the investor's money, including money from retirement accounts, on unrelated expenses, including payments to his ex-wife and ex-girlfriends, luxury trips to Europe, an Aston Martin, and a Maserati. Consequently, Skinner, Empire West, and the other entities he used to control the offerings violated Sections 5(a), 5(c), 15(a), and 17(a) of the Securities Act and Section10(b) of the Exchange Act.
Wilson Bradshaw LLP is a boutique securities law firm in Irvine, California, and New York City. We offer the advantage of a highly focused, experienced legal team that understands business realities. We also provide legal consultation regarding the SEC's regulations. Our practice is dedicated to helping businesses prosper by providing cost-effective services without compromising quality. Please visit our website or contact us by clicking this link: https://bradshawlawgroup.com/location/contact/
Reference:
[1]: https://www.sec.gov/news/press-release/2021-115
[2]: https://www.sec.gov/litigation/complaints/2021/comp-pr2021-115.pdf