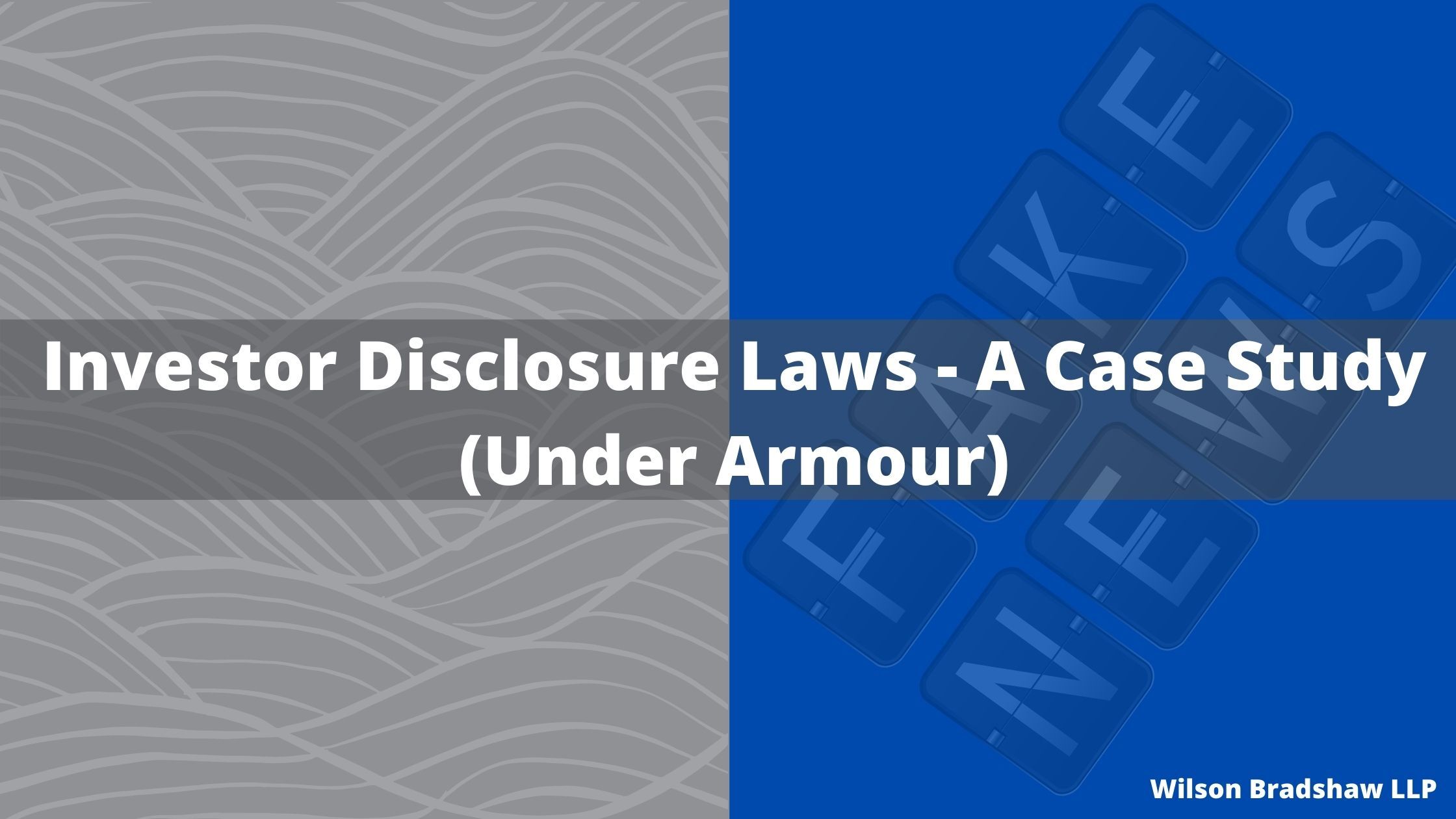 Investor Disclosure Laws – A Case Study
On May 3, 2021, the Securities and Exchange Commission ("SEC") charged Under Armour Inc. with "misleading investors as to the bases of its revenue growth and failing to disclose known uncertainties concerning its future revenue prospects." In 2015 and 2016, Under Armour engaged in what is known as "pull forwards" in order to meet Wall Street analysts' revenue estimates.
Pull forwards involve accelerating revenue recognition to the current reporting period even though customers had ordered product for shipment in a future quarter. Under Armour asked customers to accept product early in order to recognize revenue in a current quarter. Under Armour "pulled forward" enough revenue to beat analysts' estimates and attributed the revenue growth to "innovative new product offerings, a growing interest in performance products and the strength of the Under Armour brand in the marketplace, and increased sales in footwear and apparel." The SEC also found that Under Armour failed to disclose that relying on pull forwards "raised significant uncertainty as to whether the company would meet its revenue guidance in future quarters."
Pull forwards aren't inherently illegal. The problem lies in failing to disclose 1) the use of pull forwards as a basis for revenue growth and 2) the fact that reliance on pull forwards compromises future revenue by shifting revenues from future quarters to the current quarter. The failure to disclose the use of pull forwards gave investors a misleading impression of how Under Armour was beating analysts' revenue estimates. The SEC found that this was material because without this information, investors did not have the ability to properly evaluate future revenue growth.
The Applicable Law
The securities laws exist to protect investors and facilitate efficient capital formation. The SEC's mandate is also to protect investors. When there is trust between investors and companies, investors are more likely to invest in companies, capital is allocated to its most efficient uses, and the economy experiences growth. Securities laws and SEC enforcement facilitate this trust between investors and companies, which ultimately leads to wealth creation.
The SEC found that Under Armour violated the following laws:
Section 17(a)(2) and 17(a)(3) of the Securities Act of 1933

Section 13(a) of the Securities Exchange Act of 1934 and rules 13a-1, 13a-11, 13a-13, and 12b-20 thereunder
Section 17(a) of the Securities Act of 1933 makes it unlawful for any person, in the offer or sale of any securities, to defraud or obtain money or property by means of any untrue statement of any material fact or the omission to state a material fact necessary to make the statements made not misleading. Because Under Armour had an employee stock purchase plan and issued stock-based compensation under an employee incentive plan, its actions constituted "offering and selling" securities and were therefore subject to the Section 17(a) standard. By giving a misleading impression of how Under Armour was beating analysts' revenue estimates, Under Armour omitted stating a material fact necessary to make its statements (improperly attributing revenue growth to factors other than its use of pull forwards) not misleading.
Section 13(a) of the Securities Exchange Act of 1934 requires public companies to file with the SEC whatever reports are required by the SEC rules and regulations. This includes the filings required by rule 13a-1 (annual reports on form 10-K), rule 13a-11 (current reports on form 8-K), and rule 13a-13 (quarterly reports on form 10-Q). Because Under Armour did not submit wholly accurate reports with the proper information (the use of pull forwards), they violated Section 13(a). They also violated rule 12b-20, which requires public companies to disclose all material information necessary to make any statements in a required report not misleading.
To clarify further, Forms 10-K and 10-Q require public companies to comply with Regulation S-K Item 303, which requires that the forms filed with the SEC describe any known trends or uncertainties that that the registrant (the public company) reasonably believes will have a material favorable or unfavorable impact on revenue or income from continuing operations in their annual reports. Regulation S-K Item 303 also requires registrants to describe in its annual report any other significant components of revenue or expenses that should be described in order to understand the registrant's results of operations. This regulation also requires that reports focus specifically on material events and uncertainties that are known to management and that would cause "reported financial information not to be necessarily indicative of future operating results or of future financial condition." Under Armour's use of pull forwards created these uncertainties that were known to management and were reasonably expected to have a material effect on its future revenues. Because they failed to disclose the use of pull forwards and attributed the revenue growth to other factors, they did not meet the aforementioned requirements and therefore violated the securities laws.
Implications for Your Company
Under Armour paid a $9 million civil penalty to the SEC. But more importantly, Under Armour lost more than half of its market value (compared with a loss of only 34% in the S&P 500 due to the COVID-19 pandemic) within the six months following the WSJ report that it was the subject of an SEC probe into its accounting practices.
Do not be tempted to mislead your company's investors. Doing so can have drastic impacts to your company's reputation and to its position in the marketplace.
The attorneys at Wilson Bradshaw LLP can help your company understand how to navigate securities laws and prepare proper investor disclosures. Contact us today by clicking this link: https://bradshawlawgroup.com/location/contact/
_____________________________________________________
https://www.sec.gov/litigation/admin/2021/33-10940.pdf
https://finance.yahoo.com/quote/UAA/history?period1=1572825600&period2=1623974400&interval=1d&filter= history&frequency=1d&includeAdjustedClose=true
https://www.wsj.com/articles/under-armour-is-subject-of-federal-accounting-probe-11572819835?mod=article_inline