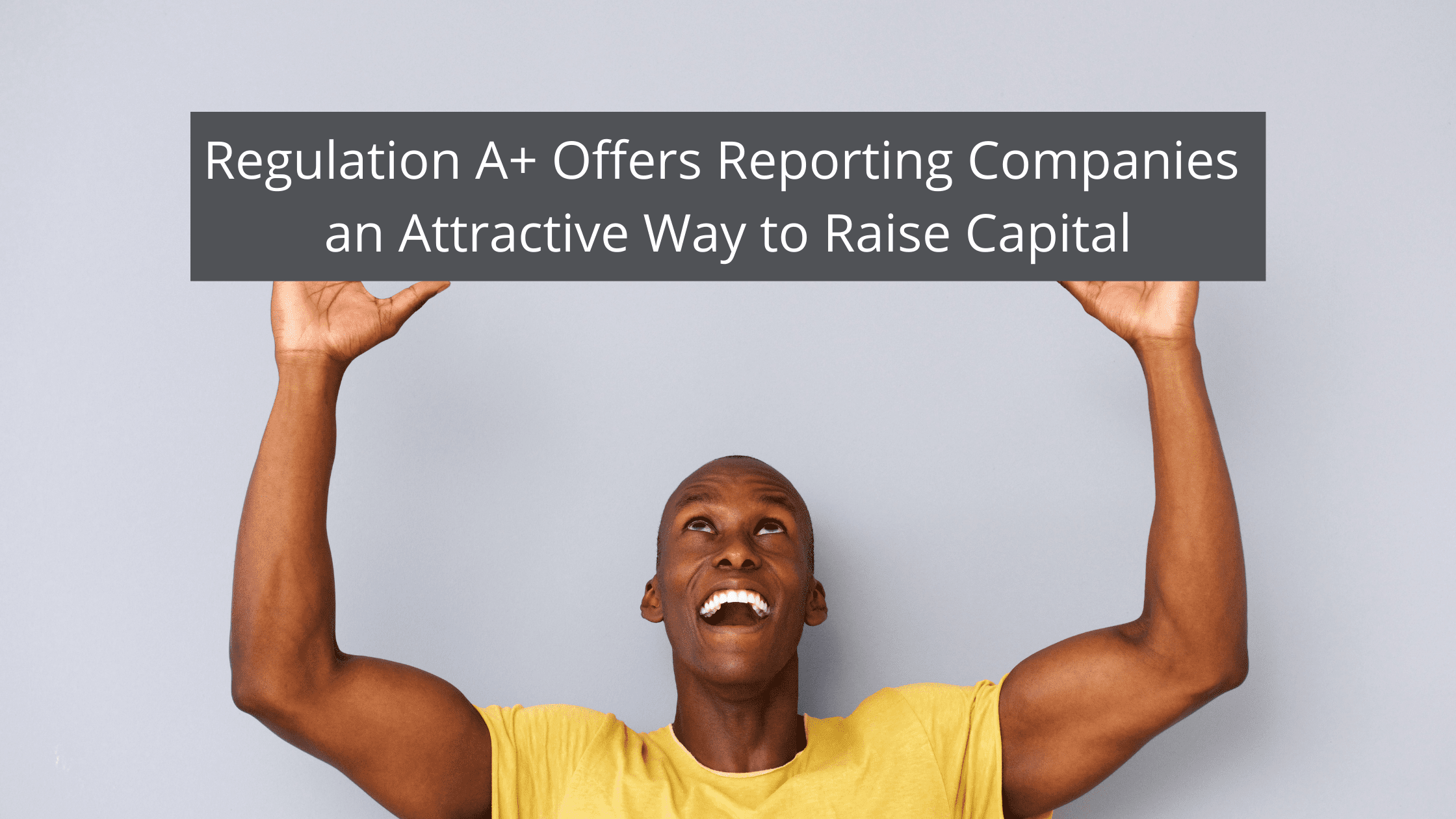 Until January 31, 2019, Regulation A+ ("
Reg. A
") was not available to reporting companies under the Securities and Exchange Act of 1932. However, in 2018 Congress mandated that the Securities and Exchange Commission ("
SEC
") make reporting companies eligible to use Reg. A. The SEC has issued final rule amendments (Amendments) permitting companies reporting under Section 13 or 15(d) of the 1934 Act to offer securities pursuant to the registration exemption Reg. A. See
Securities Act Release 33-10591
(Dec. 19, 2018). Previously, offerings pursuant to Regulation A were expressly limited to non-reporting companies. The Amendments also provide that, so long as the reporting company is current in its 1934 Act periodic reports, the reporting company has no additional periodic reporting obligations under Regulation A. The Amendments became effective on Jan. 31, 2019.
Regulation A+ is the informal name given to the amended SEC rules that expanded the Regulation A offering exemption.
The SEC's final rules just recently became effective, and Reg. A now is one of the most attractive methods for reporting companies to sell securities, particularly the companies whose stock is listed on the OTC Markets, such as the PinkOTC Market, OTCQB, and OTCQX exchanges. In 2017, there were 267 registered offerings valued under $50 million by companies whose securities were not listed on national exchanges (i.e., in the OTC Marketplaces). These offerings would now be eligible to use Reg. A. For such non-exchange listed companies, the advantages of Reg. A include the following:
Tier 2 offerings (up to $50 million in aggregate sales) are exempt from "blue sky" filing requirements. Thus, Reg. A is much more attractive for OTC-listed companies as opposed to a traditional registered public offering that does not preempt compliance with such blue sky laws.
Lower legal costs and compliance expenses. Additionally, Regulation A offerings are not subject to liability under Section 11 of the Securities Act, reducing the legal risk associated with the offering.
Investors in Regulation A offerings receive free-trading securities.
Reg. A offering are not integrated with prior offers and sales of securities, or with subsequent sales of securities in registered sales. This affords OTC companies with greater flexibility to choose between Reg. A offerings and registered offerings.
An issuer may "test the waters" by soliciting interest from investors, including individuals, without filing test-the-waters materials with the SEC. In registered offering, emerging growth companies may solicit investor interest but only from qualified institutional buyer and institutional accredited investors after filing the solicitation materials with the SEC.
Reg. A permits sales by selling shareholders (up to $6 million in Tier 1 offerings and $15 million in Tier 2 offerings, but not more than 30% of the offering in the first Reg. A offering).
A reporting company automatically complies with the reporting requirements of Reg. A by filing its quarterly and annual reports.
The age requirement of the financial statements is more lenient than that of a registered offering.
The review process for Reg. A offerings appears much less stringent. Reg. A offerings typically receive fewer comments and issuers generally report that the process is quicker than that of a registered offering. Reg. A does have a number of restrictions that may still limit its usefulness. Reg. A offerings cannot be "at-the-market," so the sales price must be a fixed price which is determined at the time of the offering circular's qualification. This restriction makes continuous offerings less attractive because the issuer may not adjust the offering price to reflect business developments. Also, sales of Tier 2 securities may only be made to accredited investors, otherwise the purchase price of the securities may not exceed 10% of the greater of an individual investor's net worth or annual income (revenue or net assets for entity investors). Notwithstanding these restrictions, hundreds of OTC-listed companies that conducted registered public offerings last year may find that Reg. A presents a less costly and more attractive way to raise capital. If you have any questions, The Bradshaw Law Group stands ready to assist you! Contact us today for a free consultation:
https://bradshawlawgroup.com/location/contact/