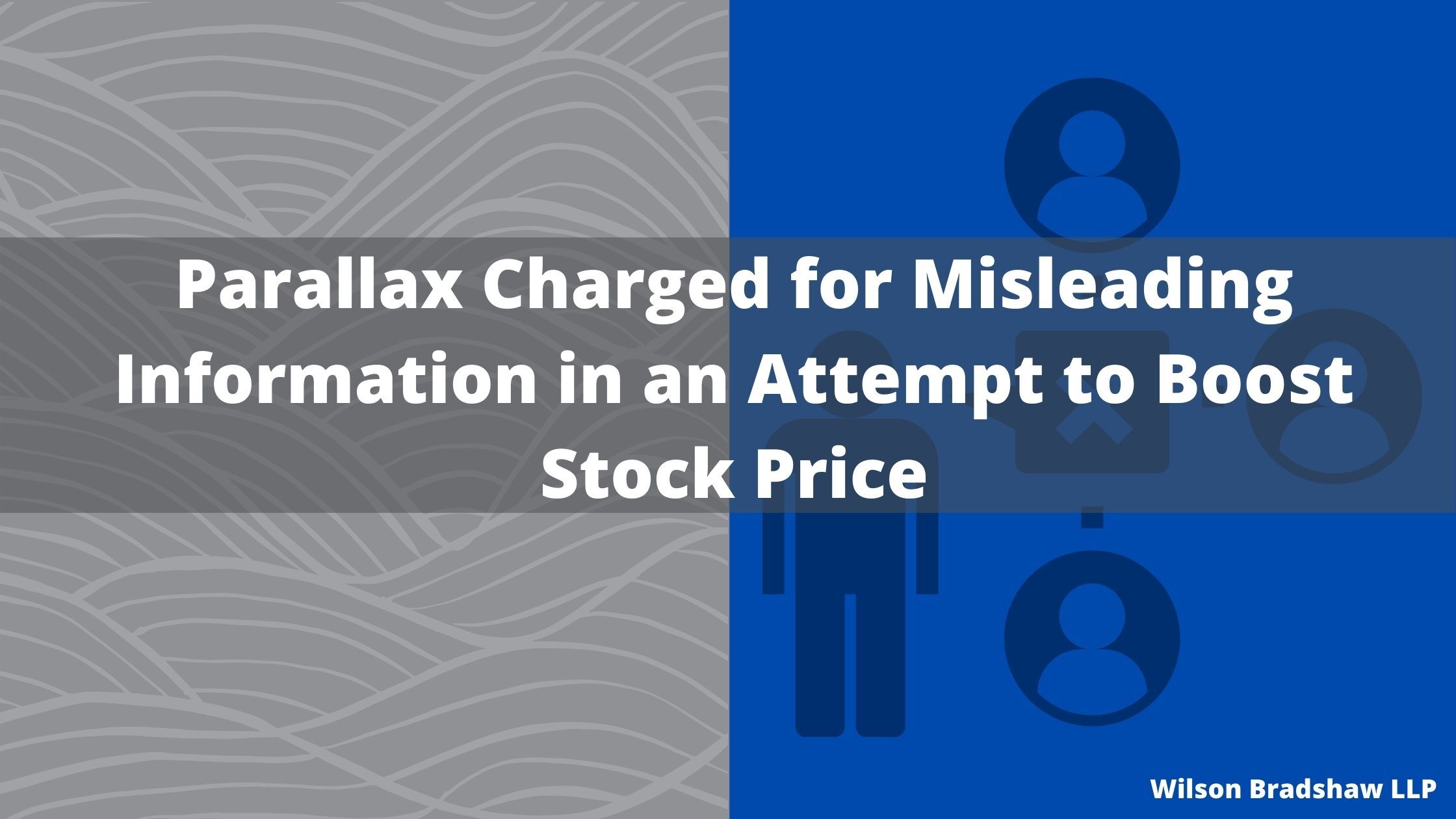 The SEC charged Parallax for releasing misleading information about its Covid-19 diagnostic product to boost its stock price.
On July 7th, 2020, the Securities and Exchange Commission ("SEC") announced its charge[1] against Parallax Health Science Inc ("Parallax"), a public company traded on OTCMKTS (PRLX), with its former CEO Paul R. Arena and CTO Nathaniel T. Bradley. The defendants were charged for misleading information back in the spring of 2020 about their effort in fighting the Covid-19 pandemic to boost the company's decreasing stock price. Parallax, Arena, and Bradley have agreed to settle the charge, paying civil penalties of $100,000, $45,000, and $40,000, respectively. Furthermore, Arena would be prohibited from acting as a public company officer or director or issuing securities for five years, and Bradley from securities offerings for three. The SEC also suspended the trading of Parallax stock on April 10th, 2020, due to the concern about the statements' accuracy.
The SEC alleged in the complaint[2] that Parallax filed an annual report of 2019 in its 10-K document stating that Parallax owns, among other things, a "Target Testing Platform consisting of Target Antigen Detection ("TAD") Cartridge and the FDA-cleared VT-1000 Desktop Analyzer ("VT-1000")." The TAD could be used to detect certain diseases, medical conditions, or drugs used from one's blood sample in the form of a binary variable(positive or negative), and the quantitative result could be generated from inserting the TAD into VT-1000. The 10-K report also mentioned Parallax's plan of developing a Covid-19 diagnostic test and a mobile version of VT-1000, the SPARKS Mobile™. However, Parallax had not commercialized the testing system yet, and it was only at the very beginning stage of SPARKS Mobile™ and Covid-19 test development, which needed over $3 million.
Parallax released seven consecutive releases in March, making several false statements. In a March 11th statement, Parallax claimed that it was discussing with the CDC, the WHO, and several private universities and laboratories about providing Covid-19 mobile screening test. In another statement, Parallax touted its ability to provide Covid-19 detecting VT-1000 that "when soon available will produce results in 15 minutes." It emphasized "soon available" in the statement.
However, Parallax had never discussed with the CDC, WHO, or any private Universities, nor had it had any VT-1000 for coronavirus detection ready for sale soon. Indeed, according to an internal document Arena distributed to others at Parallax, the VT-1000 would not be commercialized for another 12 months. In addition, the development of SPARKS Mobile and TAD Cartridge commercialization would take a similar amount of time as well. Furthermore, Parallax lacked the capital to carry through the developments. The company was insolvent. Although it raised approximately $900,000 through a private offering in early 2020, it used the money to pay for its daily operational expenses and short-term debts. By the end of March, the Parallax account had only $172,000 in cash, nowhere near to the $3 million needed.
Parallax also misrepresented its readiness to sell the Covid-19 pandemic-related personal protective equipment (PPE), ventilators, and other medical equipment. Arena drafted the announcement noticing that Parallax had entered an agreement with a Chinese distributor, which enabled it to deliver the equipment listed on the Parallax website to customers within seven days. The announcement further purported that all Parallax's products were FDA-approved. A few weeks later, Parallax published another report claiming that it had received over $10 million orders, when only $245,000 orders had been made until April 9th. Parallax also omitted its short of capital to close the agreement with the Chinese distributor and concealed that it had not registered any of its products with the FDA.
Paul G. Levenson of the SEC says, "[w]e allege that Parallax misled investors that the company was positioned to capitalize on opportunities created by the COVID pandemic. Such misinformation jeopardized investors at precisely the moment when investors were attempting to respond to the financial implications of a public health emergency."
As a result of these untrue statements, Parallax's stock price increased drastically. Before Arena and Bradley caused Parallax to make these inaccurate statements, Parallax stock prices decreased from a high of $0.070 per share to a low of $0.025 per share since the beginning of 2020. At the end of the relevant period, when Parallax flushed the market with its false statements, its stock price increased over 20% to $0.054 per share on the last day before the SEC suspended its trading. Arena actively drafted the misleadings statement, and Bradley, although unaware of Arena's scheme, failed to reaffirm the accuracy of Arena's statements before publishing them. The defendant violated section 17(a) of the Securities Act and Section 10(b) of the Exchange Act.
Wilson Bradshaw LLP is a boutique securities law firm in Irvine, California, and New York City. We offer the advantage of a highly focused, experienced legal team that understands business realities. We also provide legal consultation regarding the SEC's regulations. Our practice is dedicated to helping businesses prosper by providing cost-effective services without compromising quality. Please visit our website or contact us by clicking this link: https://bradshawlawgroup.com/location/contact/
Reference:
[1] https://www.sec.gov/news/press-release/2021-120
[2] https://www.sec.gov/litigation/complaints/2021/comp-pr2021-120.pdf